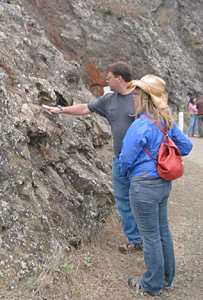 SEISMIC PODCASTS
FROM THE EXPLORATORIUM
To listen, click the link. To download, right-click and select "save link as."
Is California going to fall into the ocean?
Can pets predict earthquakes? Do quakes happen more often at certain times of the day or year? And could a really big one mean the end of California? Exploratorium geologist Eric Muller separates earthquake fact from fiction.
Earthquake in an outhouse
Relive the Loma Prieta quake with our photographer, Amy Snyder, who was caught in an outhouse at the beach. Why didn't it, or any San Francisco skyscapers, collapse?
Edible Geology Road Trip
Join Exploratorium geologist Eric Muller on a tour of world-famous geological features to be found in the national parkland just north of the Golden Gate bridge.