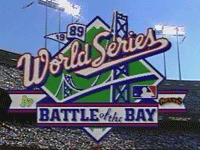 At last, Oakland and San Francisco go head-to-head in the World Series. And then, the earth starts to shake. . . .


Video courtesy of KGO TV-News/ABC-7 News.
Watch the video:
QuickTime or RealVideo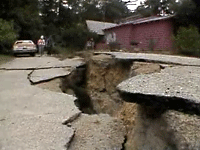 Homeowners around Santa Cruz saw roads split open and houses destroyed.


Video courtesy of KGO TV-News/ABC-7 News.
Watch the video:
QuickTime or RealVideo

A car in downtown San Francisco is crushed by falling bricks. ( See larger image )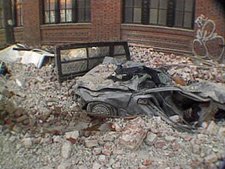 Remembering Loma Prieta
by Mary K. Miller
On the afternoon of October 17, 1989, I tuned my portable radio to the third game of the World Series—an across-the-bay battle between the Oakland Athletics and the San Francisco Giants. I was in grad school in Santa Cruz, 75 miles south of San Francisco, but I wasn't in the mood to study. I decided to take a shower. At 5:03 p.m., I turned on the water and got undressed; at 5:04, I heard a deep rumble and the floor lurched under my feet. Having grown up in California, I was used to little temblors that rattle, then stop after a few seconds. This was different. It kept going and going for a full 15 seconds. In my bones, I knew this earthquake was very close and very strong.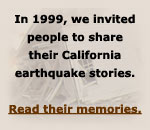 Glasses crashed in the kitchen and my television took a nose dive off its shelf. I wondered what I should do: stand under a doorway or run naked into the street? I stayed put as the earthquake shook my little wood-frame house, tipping over the refrigerator, dumping bookcases on the floor, and forever changing my cavalier attitude about living on the fault line. I braced myself in the doorjamb. Earthquakes can make some real noise, and I remember thinking that this was the loudest, most terrifying noise I'd ever heard.

I later learned what had happened: A 22-mile (35 km) section of the San Andreas Fault, centered near the Loma Prieta peak, about 5 miles from my home, had ruptured deep underground. The San Andreas marks the boundary between two giant blocks of the earth's surface: the Pacific Plate to the west and the North American Plate to the east. At 5:04 on October 17, the ground to the west of the rupture site lurched six feet closer to the Oregon border.