What is mold, anyway?
That fuzzy stuff growing on the food in your mold terrarium is mold, a kind of fungus. Mushrooms are one kind of fungus; molds are another.
Unlike plants, molds don't grow from seeds. They grow from tiny spores that float around in the air. When some of these spores fall onto a piece of damp food or other materials, they grow into molds.
Plants contain a chemical compound called chlorophyll. Chlorophyll makes it possible for plants to capture the energy of sunlight and use it to make food (sugars and starches) from air and water. Unlike plants, molds and other fungi have no chlorophyll and can't make their own food. The molds that grow in your mold terrarium feed on the bread, cheese, and other foods. A mold produces chemicals that make the food break down and start to rot. As the food is broken down into small, simple parts, the mold absorbs them and grows.
Ick! Who wants this stuff around?
It can be annoying to find moldy food in your refrigerator. But in nature, mold is a very useful thing. Mold helps food and other materials rot, which is an icky but necessary thing. In a natural environment, rotting things return to the soil, providing nutrients for other living things. Mold is a natural recycler.
Why does the mold on different foods look different?
There are thousands of different kinds of molds. One mold that grows on lemons looks like a blue-green powder. A mold that grows on strawberries is a grayish-white fuzz. A common mold that grows on bread looks like white cottony fuzz at first. If you watch that mold for a few days, it will turn black. The tiny black dots are its spores, which can grow to produce more mold.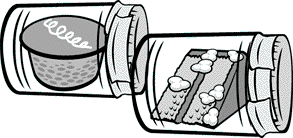 Why didn't some foods get moldy?
If you used foods that contain preservatives, mold may not have grown very well on them. If you want to experiment more with mold, you can make one mold terrarium using food with preservatives (like a packaged cupcake) and another using food that doesn't have preservatives (like a slice of homemade cake). Which one grows more mold? You can also experiment with natural preservatives such as vinegar and salt. If you do more experimenting, let us know what you discover!